Misplacing your CRA My Account password can be very frustrating at times especially when you need to access your information. Our guide below will show you exactly how to reset your CRA password in order to login into your account online. Many of our customers need their access to their My CRA Account for many different reasons. Whether to be able to grab a copy of their Notice of Assessment, locate a T4 that went missing, and or finding your slips to help you file a tax return. Most Canadians need their passwords at the most crucial of times. Our information below will give you everything you need to get back up and running.
How to do a CRA Password Reset
Please follow these steps below on how to reset your password.
First go to the CRA website. Click on this link here Individual Accounts My CRA
The next step you need to do is scroll down and locate the CRA Login button - mid way through the page - click
Once you see the screen we have here below, click on "Forgot your password"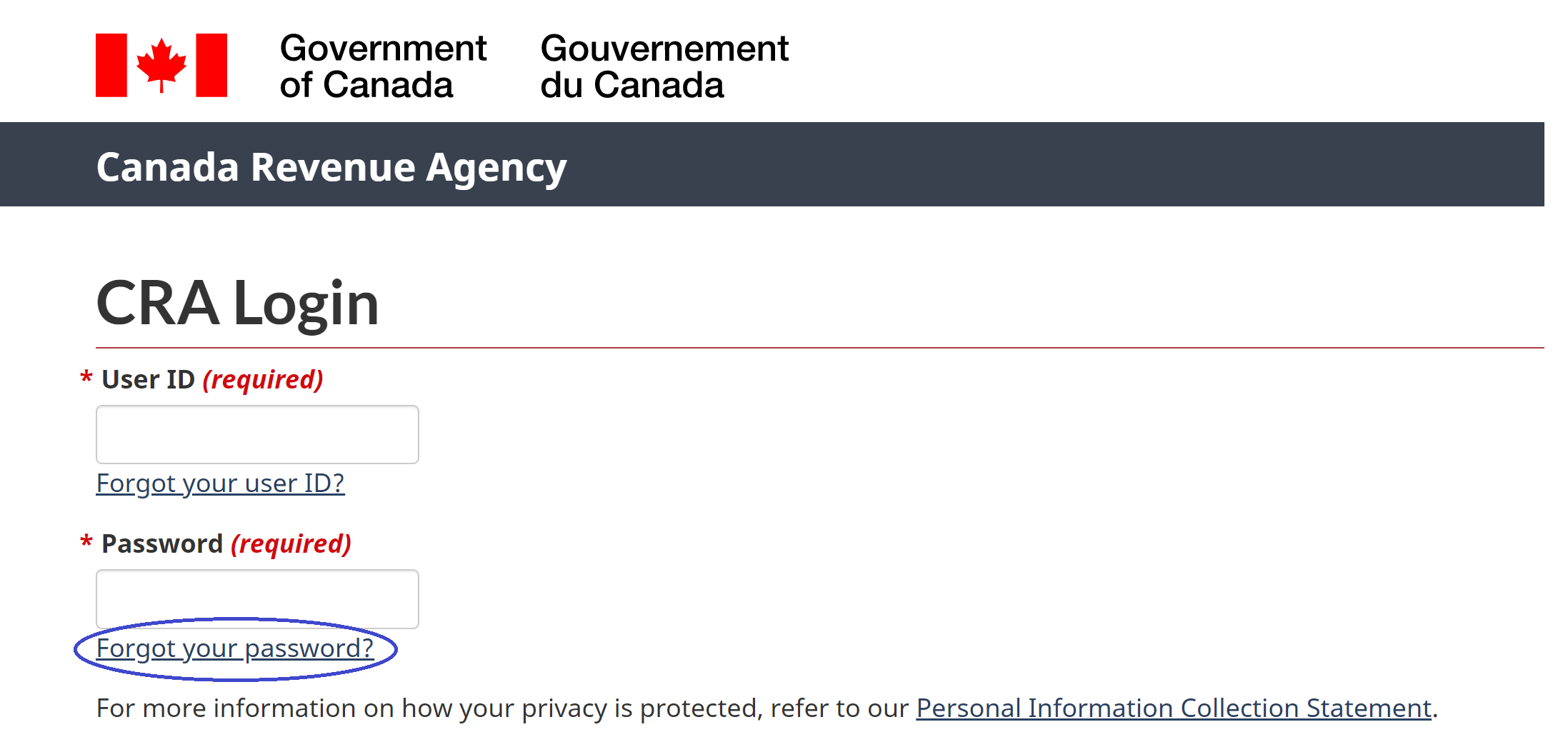 After this you will be directed to answer some security questions in order to retrieve and do a CRA Password Reset
It is very important you answer those questions correctly, so make sure to have all information with you when putting your answers.
What if I am not able to answer the questions for my CRA Password Reset?
If you are unable to answer the questions properly and or have forgotten your user ID, then you will need to re-register for your account. This is a security measure the CRA uses in order for your account to be secure. Once you re register for this account, they will mail you a security password that you can use in order to register. Typically this does take up to 10 days to receive. Another way to access your account online is to call The Canada Revenue Agency at 1-800-959-8281. They will be able to also help you open your My CRA Account and as well mail you the security code if needed. If you are looking to login to file a tax return and or access some information see below for how Accufile can help you.
Can I file my tax return without registering for a My CRA Account?
The answer is yes you can still file a tax return without doing a CRA Password Reset as well as being registered online. Accufile has a few different ways in helping you file your tax return. We are able to represent you when dealing with the CRA where we can access your information online. The other way is using auto-fill a great feature to use if you are missing T4's etc. Accufile has been filing Canadian tax returns for many years now and has helped 100,000's be able to file their taxes accurately and efficiently. When you file with Accufile you are filing with Certified Accountants online for as low as $25 per personal tax return. Take advantage of what we have to offer and make your taxes easy this year.
Once I do recover my CRA Password, how do I manage my details so that I can keep track of my password?
The CRA allows you to manage your details right on your CRA My Account page. First you must login to your account and then look for " CRA Login and Security" page. From there you will be to click through any of these options to make changes to your password etc:
Change CRA User ID
Change CRA Password
Change CRA security questions and answers
Update additional security feature preference
Revoke CRA User ID
View CRA login history
Now that the MY CRA Account is new for most individuals, it is very important to keep your login details in a safe place. Recovering your CRA Password can happen at an inconvenient time and be very time consuming to recover your account again. Always keep your important passwords in a location where it is not subject to be hacked, and as well away from anyone who can access your computer.
If you are in need of any help qith your account and or looking to file your tax return without access to your MY CRA Account, please contact us at Accufile and we can help you with everything you need. CRA Password Reset can be very difficult and we want to keep your tax process as simple as possible.